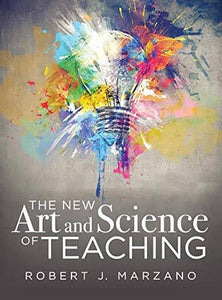 The New Art and Science of Teaching (More Than Fifty New Instructional Strategies for Academic Success)
Regular price
$37.95
Sale price
$29.00
---
This title is a greatly expanded volume of the original Art and Science of Teaching, offering a competency-based education framework for substantive change based on Dr. Robert Marzano's 50 years of education research. While the previous model focused on teacher outcomes, the new version places focus on student learning outcomes, with research-based instructional strategies teachers can use to help students grasp the information and skills transferred through their instruction. Throughout the book, Marzano details the elements of three overarching categories of teaching, which define what must happen to optimize student learning: students must receive feedback, get meaningful content instruction, and have their basic psychological needs met.
Gain research-based instructional strategies and teaching methods that drive student success:
Explore instructional strategies that correspond to each of the 43 elements of

The New Art and Science of Teaching

, which have been carefully designed to maximize student engagement and achievement.

Use ten design questions and a general framework to help determine which classroom strategies you should use to foster student learning.

Analyze the behavioral evidence that proves the strategies of an element are helping learners reach their peak academic success.

Study the state of the modern standards movement and what changes must be made in K-12 education to ensure high levels of learning for all.

Download free reproducible scales specific to the elements in

The New Art and Science of Teaching

.
Contents:
Chapter 1: Providing and Communicating Clear Learning Goals
Chapter 2: Conducting Assessment
Chapter 3: Conducting Direct Instruction Lessons
Chapter 4: Practicing and Deepening Lessons
Chapter 5: Implementing Knowledge Application Lessons
Chapter 6: Using Strategies That Appear in All Types of Lessons
Chapter 7: Using Engagement Strategies
Chapter 8: Implementing Rules and Procedures
Chapter 9: Building Relationships
Chapter 10: Communicating High Expectations
Chapter 11: Making System Changes
About the Author
Robert J. Marzano, PhD, is the cofounder and CAO of Marzano Research in Denver, Colorado. During his 50 years in the field of education, he has worked with educators as a speaker and trainer and has authored more than 50 books and 200 articles on topics such as instruction, assessment, writing and implementing standards, cognition, effective leadership, and school intervention. His books include The Art and Science of Teaching, Leaders of Learning, Making Classroom Assessments Reliable and Valid, The Classroom Strategies Series, Managing the Inner World of Teaching, Handbook for High Reliability Schools, Handbook for Personalized Competency-Based Education, and The Highly Engaged Classroom. His practical translations of the most current research and theory into classroom strategies are known internationally and are widely practiced by both teachers and administrators. He received a bachelor's degree from Iona College in New York, a master's degree from Seattle University, and a doctorate from the University of Washington.
| | |
| --- | --- |
| Publisher | ‎Solution Tree Press (February 10, 2017) |
| Language | ‎English |
| Perfect Paperback | ‎152 pages |
| ISBN-10 | ‎1943874964 |
| ISBN-13 | ‎978-1943874965 |
| Item Weight | ‎15.2 ounces |
| Dimensions | ‎8.4 x 0.4 x 10.8 inches |