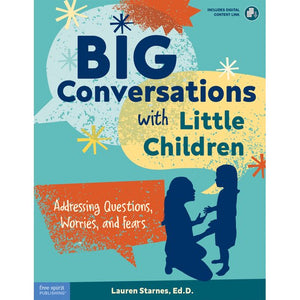 Big Conversations with Little Children: Addressing Questions, Worries, and Fears
Regular price
Sale price
$34.99
---
To work with young children is to constantly expect the unexpected. Tough questions are part of early childhood educators' regular interactions with children and families. Based on children's actual questions, Big Conversations with Little Children is readily accessible with guidelines for having difficult conversations with children, individually or as a classroom or group, and with families. The book provides guidance on how to approach specific topics related to:
family, such as unemployment, divorce, and incarceration
illness and death, such as loss of an unborn child, major illness in a child, and death of a pet
social issues, such as racism, family structures, and gender fluidity
upheaval and violence, such as natural disaster, terror events, and school shootings
Fully based in developmentally appropriate practice, Big Conversations with Little Children helps educators support young children in a way that preserves their dignity and innocence when they encounter world and social events in addition to honoring the family's preferred approach. An expert in the field of early childhood education, author Dr. Lauren Starnes empowers educators and families to answer sensitive or tough questions children pose, respond to their worries and concerns, and be prepared for an ongoing dialogue. Digital content includes family take-home information sheets for each topic.

Dr. Lauren Starnes is an expert in early childhood education. She currently serves as the Chief Academic Officer for Goddard Systems Inc. In this leadership role, Lauren will continue to shape the premier educational programming and proprietary curriculum for the Goddard system of nearly 600 schools. In her prior role, Lauren held the position of vice president of early childhood education for Primrose School Franchising Company, where she supported curriculum development, implementation, and evaluation. Prior to that she led the early childhood education department for a private education company, authoring their proprietary early childhood curriculum and leading professional development creation and delivery. Lauren has worked at every level of early childhood education. While she began her formal career teaching at the university level, she has prior experience teaching within preschools, consulting and serving as a support professional for children with autism, and serving as an embedded instructional coach for preschool teachers. She has worked as a school principal for multiple schools and remains actively involved as a voice for early childhood education in various professional associations. When not working, Lauren enjoys spending time with her family, traveling, and cheering on her two sons in sports. She lives in Marietta, Georgia, near Atlanta.
| | |
| --- | --- |
| Publisher | ‎Free Spirit Publishing (April 15, 2022) |
| Language | ‎English |
| Paperback | ‎228 pages |
| ISBN-10 | ‎1631986325 |
| ISBN-13 | ‎978-1631986321 |
| Grade level | ‎Preschool - 5 |
| Item Weight | ‎1.42 pounds |
| Dimensions | ‎8.5 x 0.53 x 11 inches |