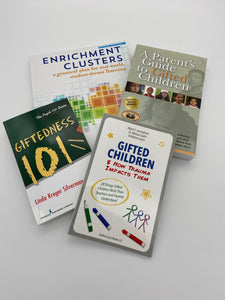 Gifted Leader Starter Set
Regular price
$100.00
Sale price
$95.00
---
New to gifted education? Starting or revamping your school or district's gifted program? These books will get you started in the right direction. 
Book 1 - Help Parents Understand Gifted Children:
A Parent's Guide to Gifted Children
Raising a gifted child is both a joy and a challenge, yet parents of gifted children have few resources for reliable parenting information. The authors of this book are nationally known experts in giftedness, as well as parents themselves. From their decades of professional experience working with gifted children and their families, they provide practical guidance in key areas of concern for parents, such as the characteristics commonly seen in gifted children, peer relations, sibling issues, motivation and underachievement, discipline issues, intensity and stress, depression and unhappiness, education planning, parenting concerns, finding professional help, and much more. This is a book that parents will turn to again and again. Distinguished as an iParenting Media Award-Winner, USA Books News Award-Winner, and GLYPH Award-Winner!
Book 2 - Help Teachers Understand Gifted Children:
Giftedness 101 (Psych 101) 1st Edition
What is giftedness? Is it the potential for success or is it the experience of being an "outsider"? This book addresses the unique psychological needs of gifted children, which are often manifested as "feeling different," and examines special issues such as gifted children with learning disabilities, gender considerations, implications of socio-economic status, and more.
Giftedness 101 dispels common myths about giftedness and challenges the view that eminence is the true signifier of giftedness. It offers specific guidelines to psychologists, parents, and teachers; describes comprehensive assessment of the gifted; provides support for the twice exceptional; and focuses on the complex inner world of the gifted. The book defines giftedness as a psychological reality with powerful ramifications throughout the lifespan. Giftedness 101 will be a valuable, eye-opening resource for psychologists, educators, and other professionals who work with the gifted, as well as gifted individuals and their families.
Book 3 - Help Everyone Understand Gifted Children's Social and Emotional Needs: 
Gifted Children & How Trauma Impacts Them

By Adam Laningham, Dr, Melissa Sadin, & Nathan Levy
Many gifted children, especially highly gifted children, suffer their own kind of trauma as they cope with being different and trying to fit into society and expectations placed on them. Having society, parents, teachers, a school system not understand them and how they think and learn, can have a profound impact on a child. These children are also just as likely to suffer from other traumas as any other child; however, their unique sensitivities and pressures they are already under put them at a unique risk.
Combining decades of experience and firsthand experience, the authors have developed many strategies parents and teachers should know when working with gifted children who may have experienced or are experiencing different
forms of trauma. This book will open your eyes to what our children are going through, and also provide you with some strategies to help support them.
Book 4 - Set Up A Proven Program:
Enrichment Clusters: A Practical Plan for Real-World, Student-Driven Learning 2nd Edition
by Marcia Gentry (Author), Joseph Renzulli Ed.D. (Author), Sally Reis Ph.D. 
Enrichment clusters engage students and facilitators in student-driven, real-world learning experiences. Grouped by interest, students working like practicing professionals apply advanced content and methods to develop products and services for authentic audiences. Clusters are scheduled during the school day over an extended period of time and involve all students. This updated second edition of Enrichment Clusters provides the rationale for including this important enrichment program for all students, suggestions for creating buy-in, and a step-by-step guide for successful implementation of a self-sustaining enrichment cluster program within the context of specific schools. Included are staff development activities, suggestions for evaluation and program improvement, guidelines for developing high quality cluster experiences for teachers and students, suggested resources, and everything one needs to develop, implement, and sustain a top-quality enrichment cluster program.