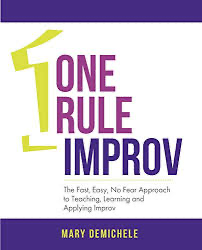 One Rule Improv: The Fast, Easy, No Fear Approach to Teaching, Learning and Applying Improv
Regular price
Sale price
$25.00
---
One Rule Improv presents a fast and easy approach to understanding improv so anyone who wants to learn, teach or apply improv to their lives or in the workplace can do so with confidence. This approach works for both the performer and the non-performer, the extrovert and introvert, for the enthusiastic participant and for the person uninterested or apprehensive about improv. One Rule Improv will help you: •Explain what improv is and how and why it works •Teach, facilitate and play the games, so the many benefits are achieved •Apply improv skills and concepts so the benefits of improv are sustainedThis book is great resource for:•A trainer or coach who wants to bring improv to their organization and get it to stick.•A drama instructor who would like to easily introduce improv to help their students quickly become a supportive ensemble and gain valuable improvisational skills.•The improviser who would like to promote and teach improv to others through classes or workshops.•The experienced improv director/teacher who needs to prepare students or group members to effectively teach at workshops and events.•The students/clients of trainers, coaches or improv teachers, so they may sustain their interest and understanding of improv; and continue to correctly practice it between workshops and sessions.
About the Author
Mary DeMichele is a coach, consultant and improviser with over 25 years experience in educational, clinical and professional settings. She is the founder and owner of Academic Play, which uses activities and concepts from the performing arts to enhance learning and performance. A founding member of the New York City area improv troupe Nutty By Nature, (originally called On the Spot), she continues to perform as well as share the benefits of improv through events and training. Mary began her career as a social studies teacher in an award winning urban school district in New Jersey where she taught for over 10 years. There she founded a very successful performing arts program, teaching both drama and improv, as well as integrating them with academic subjects. Mary would go on to teach in other inner city, suburban and rural districts throughout the United States, as well as in Europe, as a social studies teacher, special needs teacher and educational director for foster care youth.

Mary holds a Bachelor of Arts from Rutgers University and a Master of Social Science from Syracuse University. She trained as an associate trainer with Dr. Rich Allen owner of Green Light Education, in presentation and facilitation skills; and with About Learning, founder of the 4MAT model for instructional design. Both approaches are based in educational, cognitive behavioral psychology and current neuroscience.
Her extensive experience and passion for instruction, coaching and improv lead her to write the books One Rule Improv: The Fast, Easy, No Fear Approach to Teaching, Learning and Applying Improv. Mary is also the author of Improv 'n Ink: Overcoming "I Don't Know What to Write! which is supported by the peer reviewed article,  Improv and ink: Increasing individual writing fluency with collaborative improv. International Journal of Education & the Arts, (2015).
| | |
| --- | --- |
| Publisher | ‎Academic Play LLC (February 17, 2019) |
| Language | ‎English |
| Paperback | ‎260 pages |
| ISBN-10 | ‎0996261311 |
| ISBN-13 | ‎978-0996261319 |
| Item Weight | ‎1 pounds |
| Dimensions | ‎7.5 x 0.59 x 9.25 inches |