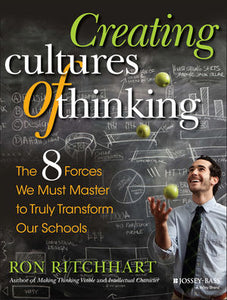 Creating Cultures of Thinking: The 8 Forces We Must Master to Truly Transform Our Schools
Regular price
$29.95
Sale price
$20.00
---
Product Description
Discover why and how schools must become places where thinking is valued, visible, and actively promoted
As educators, parents, and citizens, we must settle for nothing less than environments that bring out the best in people, take learning to the next level, allow for great discoveries, and propel both the individual and the group forward into a lifetime of learning. This is something all teachers want and all students deserve. In Creating Cultures of Thinking: The 8 Forces We Must Master to Truly Transform Our Schools, Ron Ritchhart, author of Making Thinking Visible, explains how creating a culture of thinking is more important to learning than any particular curriculum and he outlines how any school or teacher can accomplish this by leveraging 8 cultural forces: expectations, language, time, modeling, opportunities, routines, interactions, and environment.
With the techniques and rich classroom vignettes throughout this book, Ritchhart shows that creating a culture of thinking is not about just adhering to a particular set of practices or a general expectation that people should be involved in thinking. A culture of thinking produces the feelings, energy, and even joy that can propel learning forward and motivate us to do what at times can be hard and challenging mental work.
Review
" In this insightful and important book, Ron Ritchhart does a wonderfuljob of relating the fine-scale details of what happens in classrooms tothe high-level goals of education. We see how our use of languageinfluences our students' views of what schools are for, the importanceof thinking carefully about time and space, and how ultimately,nurturing our relationships with our students and our colleagues areessential elements in creating schools that nurture thinking, ratherthan compliance.  Any teacher, wherever they are in their career, willlearn from this book, and be prompted to reflect on their practice."

 - Dylan Wiliam, Emeritus Professor of Educational Assessment
University College London

"This is not just a book about creating "thinkingclassrooms." At its core, it is a book about classrooms as a place for studentsand teachers to be fully human together--a place where teaching is lifting theprospects of every student, a place where learning is discovering the mind, aplace that dignifies and enlivens the concept of education.   The book is a reminder that many of us havelost our way as educators.   It is a guidefor re-setting our compasses."


-  Carol Ann Tomlinson, Ed.D., William Clay Parrish, Jr. Professor & Chalr
   Educational Leadership, Foundations, and Policy
   Curry School of Education , University of Virginia 
From the Back Cover
Let's build dynamic learning communities that engage students, promote deep understanding, and sustain a lifetime of inquiry.
Once again we are in the throes of curriculum reforms designed to transform education. However, these efforts generally neglect the vital role classroom and school culture play in promoting learning. Any curriculum, good or bad, will sink or float on the culture of the classroom in which it is enacted. Culture matters not only to realize curricular goals, but also as a shaper of students' development as powerful thinkers and learners.
Creating Cultures of Thinking, written by leading Harvard University researcher Ron Ritchhart, builds the case for "enculturation" as the key to deep learning and the development of the habits of mind and dispositions needed in a changing world. He demystifies the process of creating dynamic learning communities by first identifying and then walking us through the eight forces we must marshal to build strong group culture. Case studies, practical guidelines, self-assessments, and inquiry projects enable teachers and administrators―as well as anyone interested in fostering group learning―to understand and shape powerful learning communities.
Praise for Creating Cultures of Thinking
"Ron Ritchhart makes a powerful argument that building a 'thinking culture' within our schools is the key to better learning, greater student engagement, and more happiness all around. This book includes not only a thorough discussion of the elements of a successful school culture, but also activities to elicit contributions from students and teachers. And who knows? If the lessons in this book are put into practice, a culture of thinking might escape the classroom walls and spread to the wider world. Wouldn't that be something?"
―Daniel H. Pink, author of Drive and To Sell Is Human
"This book builds on the excellence of Making Thinking Visible and gets to the heart of the eight forces that truly make a difference to learning―and in particular, to the mind frames of the teachers, leaders, and students that allow a sustained, contemplative, and powerful impact on learning. . . . If your aim is to go beyond the surface, this is the perfect book. You can 'hear' Ritchhart thinking as you read this tour de force."
―John Hattie, director, Melbourne Education Research Institute; author of Visible Learning
"Books in education tend to be either presentations of a few big ideas, scholarly reviews of relevant literature, or guidebooks to effective practice. Creating Cultures of Thinking is a rarity―a seamless blend of all three genres. Whether you teach kindergarteners or graduate students, you will learn much from this book."
―Howard Gardner, author of Truth, Beauty, and Goodness Reframed
About the Author
RON RITCHHART is a senior research associate with Project Zero at the Harvard Graduate School of Education, where he directs the worldwide Cultures of Thinking Project. He is also a fellow at the University of Melbourne, Australia, and a recipient of the Presidential Award for Excellence in Mathematics Teaching
| | |
| --- | --- |
| Publisher | ‎John Wiley & Sons; 1st edition (March 9, 2015) |
| Language | ‎English |
| Paperback | ‎384 pages |
| ISBN-10 | ‎1118974603 |
| ISBN-13 | ‎978-1118974605 |
| Item Weight | ‎1.38 pounds |
| Dimensions | ‎7 x 0.8 x 9.1 inches |